Where is the Mint Mark of
The 10 Cash TAI-CHING-TI-KUO Copper Coin
Kiangnan Province 1906

During the later Qing dynasty, the coinage of the ancient copper coins had been suspended in most of the provinces in China. The Mint masters found that they could not cast the tranditional cash coins economically, they stopped casting and engaged in another kind of circular coin struck by machinery without a square hole in the centre. It was known as "T'ung Yuan" [
copper coin], or "T'ung Hsien" [
copper cent] and or "Tung Pan" [

copper plate] Each one is equivalent to ten cash. Later, there were also denominations of 1, 2, 5, 20, and 30 cash.
Copper Coin was first minted in Kwangtung province in the 26th years of the "Kwang Hsu" reign (1900AD).
I post below are an email and coin images received from Mr. A.M.

Title : Request for Identification of Mint Mark 10 Cash TAI-CHING-TI-KUO
Date : Sun, 14 Aug 2016 22:48:03 -0500


Sir,

I like and appreciate your site on the Chinese coins. I have come across this coin of Chinese empire "Kwang Hsu" - 10 CASH TAI-CHING-Ti-KUO Copper coin. After all the references I have not been able to identify the province mint mark on the coin. I am attaching the photograph of obverse and reverse for your reference.

Would appreciate if you spend your valuable time and please guide me with the details of "Province Mint Mark"..

Your help is highly appreciated. Thanks.

Regards,

Anuj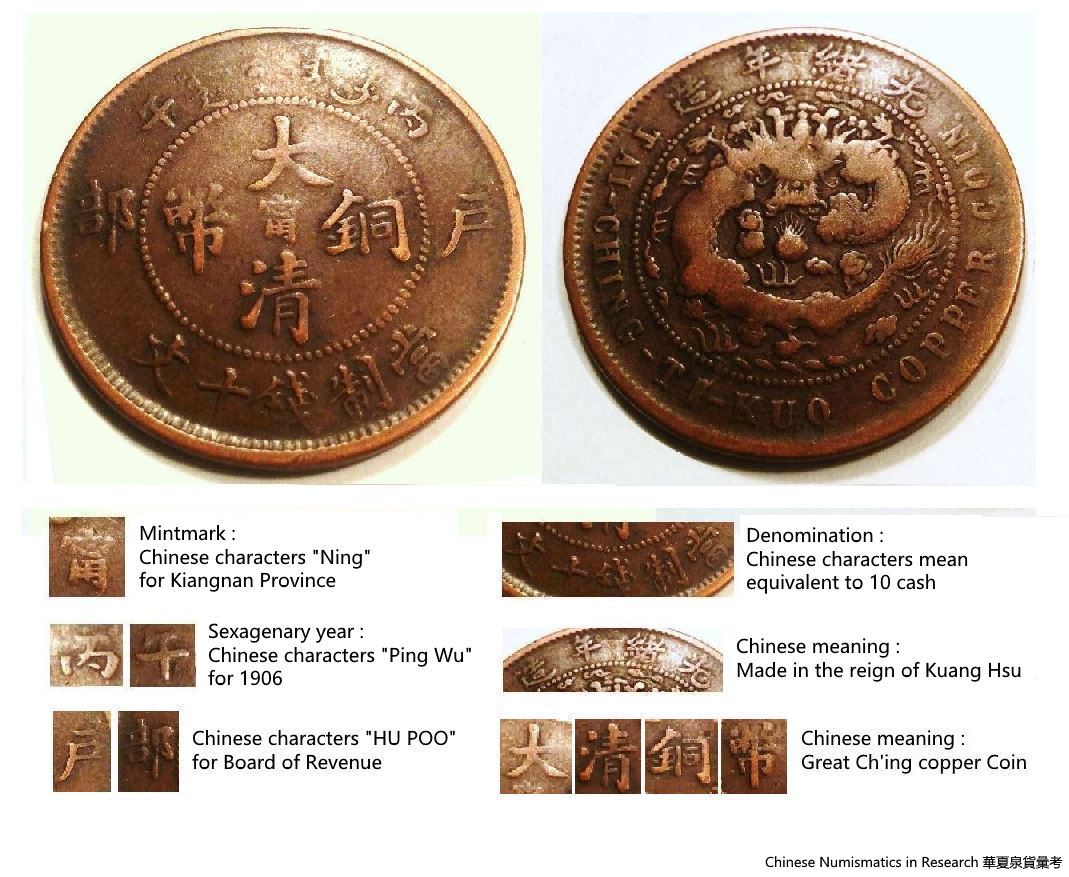 By courtesy of Mr. A.M.



This 10 cash Kiangnan copper coin was inssued in 1906 with the sexagenary year written in Chinese "Ping Wu" on the obverse.

A Chinese character "Ning" meaning 'Kiangnan Province, inscribed in center, surrounded by Chinese (Great Ch'ing copper Coin) within beaded circle. 2 Chinese characters "HU POO" (Board of Revenue) on each side of the center in the outer circle, the Emperor's reign title in four Manchu characters with two Chinese characters [ Ping Wu - issued in 1906 ] denoting the sexagenary year of the issue above, and Chinese (Equivalent to 10 Cash) below.

On the reverse is a new design dragon [known as Tai Ch'ing Ti Kuo Dragon] emblem in center with a seven-flames pearl, surrounded by stylized clouds within beaded circle; above in outer circle, Chinese means made in the Reign of Kuang Hsu, below English "TAI-CHING-TI-KUO COPPER COIN". TI-KUO means empire's.

In 1905 China carried out a coinage reform which standardized the designs of copper coins. All mints were ordered to use the same obverse and reverse designs, but to place a mint mark in the center of the obverse. - page 318, S.C.O.W.C. 18th Edition.
More about Copper Coin in Chinese History

Bibliography

A History of Chinese Currency (16th Century BC - 20th Century AD), 1983 Jointly Published by Xinhua (New China) Publishing House N.C.N. Limited M.A.O. Management Group Ltd. ISBN 962 7094 01 3
Pang Hsin Wei:中國貨幣史,上海人民出版社。(The Currency History of China.), 1988. ISBN7-208-00196-0/K.47
Chester L. Krause and Clifford Mishler Colin R. Bruce II. : Standard catalog of World Coins 1991, 18th edition
Any additional comment would be much appreciated, you can send it to Y K Leung.