Unknown Cloth Money
A challenge to me again, is it a challenge to you too ?

I have placed below a small piece of cloth money (I call it) here. It is, judging by appearance, a piece of Ch'ien P'iao

or credit instrument printed by the old-method on a piece of white cloth. I only know this Ch'ien P'iao came from Sinkiang province, but I don't know the scripts ( Uygur? ) on the both side of the note. Do you know anything about it?


Additional Information

This is a 100 wen (red cash) note issued by the bogus "Khotan (Hotan) Government of the Islamic Republic" in Sinkiang in 1934. The bogus government was headed by Mansur, and it lasted for about 4 months only. Mansur was defeated and killed by Ma Hu-shan soon. The blue text was printed on the red underprint cloth. Both sides of the note were inscribed in Uygur.






Marks of Rareness of the Collected Currencies
Extremely Rare A ~ Very Rare B ~ Rare C ~ Not So Many D ~ Common E


Issue Evolution and Peculiarity
No.: 089 Size : 100mmx67mm Issued by : ? Rareness : C
Obverse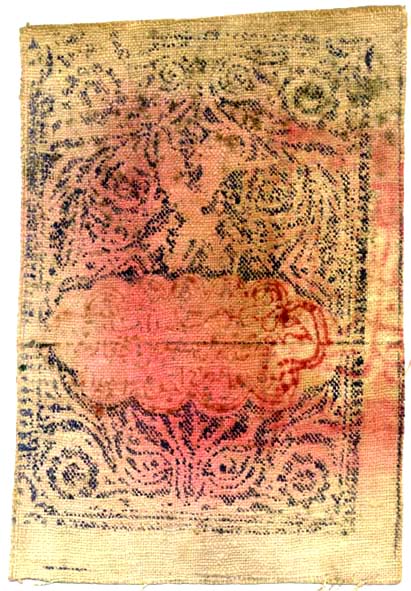 Reverse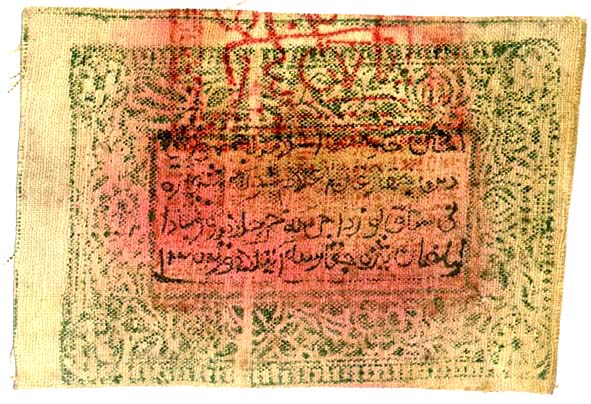 Bibliography

Dong Qingxuan : China Numismatics 1992, No.1, p.6 ISSN 1001-8638
Albert Pick, Colin R., Bruce II : Standard Catalog of World Paper Money, Volume one, p.398, Cat #S3039.
Any additional comment would be much appreciated, you can send it to Y K Leung.