No. 0037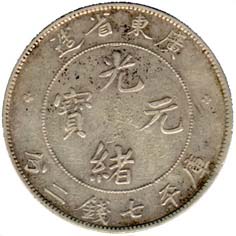 This dragon silver coin was minted in 1890 (3rd series) by Kwangtung Coin Bureau. In the center of the obverse are characters of "Kuang Hsu Yuan Pao" reading from top to bottom and right to left, in Chinese and Manchurian. In upper outer circle, Chinese characters "minted in Kwangtung Province", right and left small decorative stars. In lower outer circle is the description of the face value "Equivalent to 7.2 mace". In the center of the reverse is a dragon design, surrounded by stylizied clouds. encircled with the name of place of mint and face value in English, right and left are decorative stars.

In 1889, the Kwangtung Coin Bureau struck the first series of China's own silver coins in sets of 5 denominations. The main coin, 7.3 maces by weight, was valued at one foreign dollar which was 7.2 maces by weight. They were actively circulated on account of their higher percentage, with the result that they were either melted down for their excessive silver content or taken up by the collectors.

The Kwangtung Coin Bureau struck another set of coins later in the same year (1889). The weight of the main coin was 7.2 maces, just the same as the foreign dollar. Due to the criticism on the use of English words on the obverse, in which the Emperor's reign title was surrounded by the English inscriptions, the coins were soon withdrawn from circulation. It is highly rare and precious at present.

In the 16th year of Kuang Hsu reign(1890AD), Kwangtung Coin Bureau struck the third set of silver coins in which the foreign inscriptions were moved from the obverse to the reverse as the border of the dragon design. The new silver coins were in sets of five denominations weighting 7.2 mace with 90% silver (one dollar), 3.6 mace with 86% silver (50 cents), 1.44 mace with 82% silver (20 cents), 0.72 mace with 82% silver (10 cents) and 0.36 mace with 82% silver (5 cents). They were widely circulated with direct effect up the circulation of the foreign dollars.